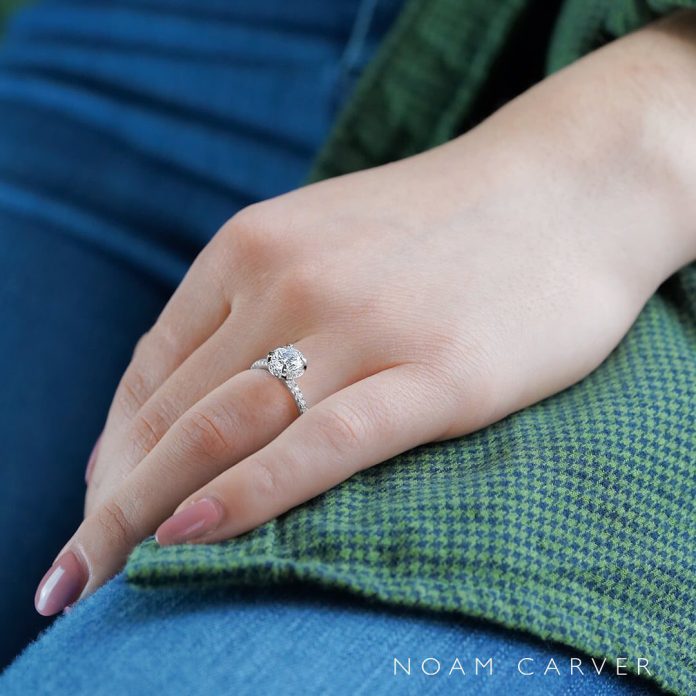 Last Updated on January 3, 2023 by ghiselle rousso
Making the right pick for your engagement ring, a sign of your togetherness and unity can be difficult because so many exquisite options are available. It's crucial to understand what's what, whether you're actively hunting for a ring or daydreaming about the future. Diamonds may be a girl's best friend, but they are gorgeous gems without the proper setting that matches.
An engagement ring is so much more than what first meets the eye. The centre stone is nearly always the focal point, but the setting is just as significant. At first sight, you'll undoubtedly notice the central stone before any other component. The ring's setting keeps it safe and significantly affects how it looks and feels. There is no one size fits for best ring settings either. One of the finest methods to Build your own engagement ring is to select a distinctive ring setting type.
Do you need to learn more about settings to create your own engagement ring? Here are some ideas that can assist you to design your own engagement ring
1 – Bezel Settings
There are two sorts of bezel settings: partial and complete.
Bezel settings, considered modern ring settings, provide better security for the diamond. In a partial bezel setting, the centre diamond is partially surrounded by the diamond, highlighting the gemstone. The central diamond in a complete bezel setting is surrounded by a delicate metal rim, which secures the gemstone. This setting also conceals any inclusions on the sides of your diamond, letting you choose a lower-grade diamond if you don't have the funds for a higher-grade gemstone.
Rings with bezel settings are also easy to keep clean and maintain. Bezel settings are adaptable ring settings that complement your diamond to Build your own engagement ring for men or women.
2 – Prong Settings
A conventional engagement ring setting is a prong setting. This type of diamond setting, often known as a solitaire or claw setting, is a traditional choice for engagement rings. The prong, often known as the claw, is a little metal device holding the centre diamond. The prong might be spherical, flat, or V-shaped. The prongs supporting the diamond allow light to penetrate through the gemstone, enhancing its beauty and radiance.
A prong setting on your engagement ring is an excellent technique to highlight the beauty of your diamond while keeping it secure. This setup often has four or six prongs. Four prongs add geometry to your ring, whereas six prongs give it a floral appeal. This setting is ideal if you want to design your own engagement ring setting that protects your diamond. Remember to have your band regularly serviced since the prongs may loosen over time.
3 –Pave Settings
Pave is a French word that means 'paving' in English. Smaller diamonds are laid or lined on the band of this ring setting. When you look at pave set diamonds, you will see a continuous line of brilliant gemstones that highlight the engagement ring by adding more glitter and brilliance to the band while keeping the focus on the central diamond. The benefit of a pave set ring is that it has a stunning and elegant shine that highlights the true beauty of your centre diamond. Furthermore, creating a halo of pave set diamonds around the centre stone will make it appear larger than it is. Make sure you know your ring size before designing your pave set band, as it will be impossible to resize once it's ready to wear.
4 – Micro Pave Settings
A pave setting is a micro pave setting. While pave set rings might have diamonds of different sizes embedded in the band, micro pave rings have diamonds of the same size and lower carat weight lining up on the band. Rings with this are setting feature fifty diamonds on average and, depending on taste, even more if you want to construct a stunning awe-struck kind of sparkle on your engagement ring. This setting can even accommodate many rows of gleaming jewels, making it one of the most expensive rings to create your own engagement ring that is available depending on your preferences.
To Conclude
Your final goal should be to Build your own engagement ring with a ring setting and diamond form that will make your dearly beloved smile. And, if you're designing it alongside your spouse, making a one-of-a-kind ring that represents the love you share is bound to be a memorable experience.