Last Updated on February 16, 2023 by Tabraiz
India is a country with magnificent history and phenomenal cultural values. Every state has its speciality in terms of language, food, festivals, styling, fashion and fabrics. Every state has their way of expressing itself even if it is through clothes. We Indians like it bright and clothes are the best way to show your vibrant side. And the demand for cultural rich quirky and peppy prints is increasing day by day. The house of Fab Couture's showcases a thoughtful collection from different parts of the country on one single platform to bring the legacies of all major Indian fabrics with a modern adaptation attached to unconventional designs.
Our fabric choices are as vivid as our culture and the spirit that is attached to it.
IKKAT:  The vintage craft of weaving the fabric in a unique geometric pattern belongs to every part of India, be it in Gujarati Patola or Andhra's Pochampally ikkat silk or Odisha's Ikkat. The price range depends on the uniqueness and intricacy of the pattern woven. Fab Couture's brings an affordable range of ikkat cotton fabrics for everyone out there who loves this art and wants to keep it alive. The designs range from simple booties, abstract designs, and geometric patterns to bohemian styles in a plethora of colours that you can choose from. Coming straight from the Indian runaway to your collection, the versatile fabric is all about sophistication and fashion-forward choices.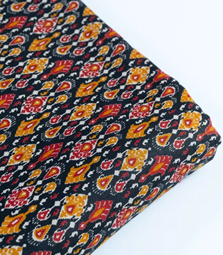 ORGANZA: One of the favourite fabrics of women these days. From Kareena Kapoor khan's dreamy floral organza saree to the versatile wedding collection in organza by ace designer Sabyasachi, most celebrities will be seen enhancing their ethnic look in this sheer and breathable fabric. With a skilful curation, the house of Fab Couture's brings an extensive collection of organza fabrics. There is a wide collection stretching from digitally printed florals to zardozi embroidery to intricate thread embroidery. The soothing organza fabric with over-the-top patterns can add an oomph to your wedding outfits.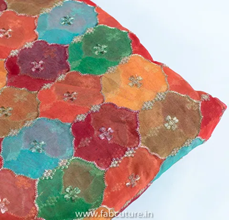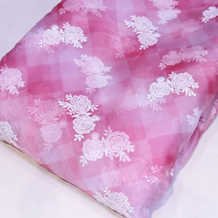 Chanderi: With each design telling its own weaving story, the chanderi fabrics are evergreen and can be worn in any season. You can find them great-grandmother's collection, your grandmother's and of course your mother's too. A huge collection is showcased by the house of Fab Couture. Just name the pattern and you will find it, whether it is thread work, sequins, mirror work, gota embroidery, geometric patterns or floral motifs, you can find everything under one roof. The colour combinations and all types of chanderi blends are waiting to empower your style sense. Without thinking twice, invest in the best chanderi fabric as per your needs. Also, you can get dyeable chanderi fabrics to craft your own story.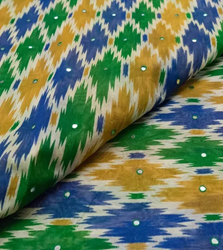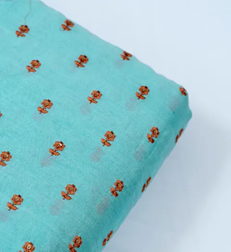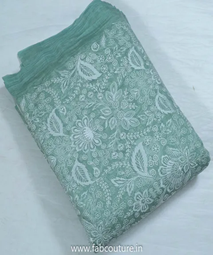 Silk: What different can we say about silk that you already don't know! What I know is that it is must have in your wardrobe and it doesn't matter in which form you possess it. The ethnic section is majorly dominated by silk fabrics, whether it is embroidered or woven. Keeping that in mind, the team of talented designers have come up with modern adaptations of this age-old fabric. You can find the trendiest ties-dyes, coding embroideries, zari work, light bootis and woven borders for all the celebratory affairs on Fabcouture. in.
Jacquard: Jacquards have made a place for them since it was manufactured for the first time. Whether you want to get your dresses done or decorate your house, jacquards are everyone's favourite. Enhance your home and your wardrobe with our unconventional collection of this textile. You can choose from varieties of jacquards blended with georgettes, chiffon, viscose and silks. Weaving techniques like bandhani, thread work, zari work, and sequins are all in demand. Furnish your wardrobe and your house with this pristine fabric.
Embroidered dupattas: When we talk about charisma, dupattas are the hot favourite to elevate any look or upcycle any look. You just name the fabric and it is waiting for you in the house of Fab Couture. Renew your old dresses with a lightweight organza dupatta or team up an elegant silk dupatta for that rich look. Also, you can focus on Chinon-chiffon dupattas in bandhani print, which are sophisticated and have an X-factor that Fab Couture is famous for.
The house of Fab Couture aims at bringing the best of fabrics to its customers. Bringing you the timeless fabrics of all time with their modern upgrades. Meeting the traditional designs with captivating contemporary forms, each member of our team tries to bring forth an innovative design at an affordable price. It is a popular Indian Fabric one-stop solution for occasions. See you super soon for celebrating your next shenanigan.
Apart from that if you want to know about Elegant Women's Clothing in Canada then please visit our Fashion category