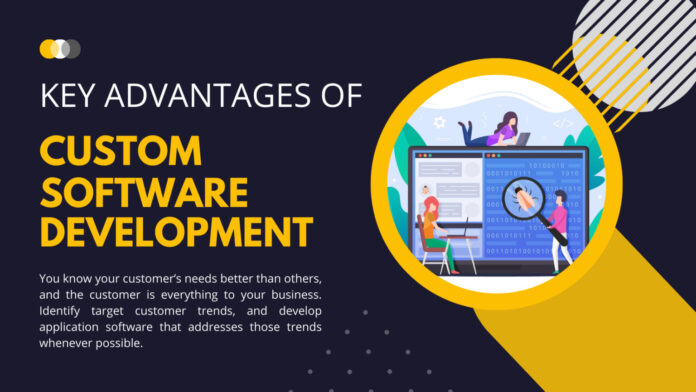 Last Updated on February 26, 2023 by hassan abbas
Custom software development
It doesn't matter what industry you're in, there's always a need for customized products and services. Fortunately, with custom software development, you can get the exact product or service that you need. This is going to have a positive impact on your business over time. Customized solutions are almost always more efficient and flexible than off-the-shelf products. And alas, even if it means paying higher fees up front, it's still a worthwhile long-term investment that will continue to pay dividends as your company grows.
Sure, it's more expensive than your average off-the-shelf software product. But having a custom piece of software is like owning a tailored suit: you definitely feel like you're wearing a million bucks. Compared to the high costs, the investment in initial software development will save you more in the long run, thus being worth its weight in gold.
With custom software development, you have a product that is designed to meet your specific needs and operations. Customized solutions help businesses better adjust for ever-changing market conditions and consumer preferences in the future. What is Custom Software Development?
Custom software development is a unique field of application development which falls somewhere between pure coding and creating software from scratch. Custom software development is a broad term that is applied to different kinds of custom software solution based on the needs of the customer. It is a software solution that is only meant to meet specific requirements or solve specific computer-related problems. Custom software can be used by large companies, small businesses and even individuals.
Create applications they can use internally
Custom software development has been around for a long time. It's used in a variety of industries and business segments. Depending on the specific needs, businesses may rely on bespoke options to create applications they can use internally or to improve processes. Custom software can be as simple as modifying an existing app. It could be constructing an application from scratch. It could also be a combination of both. The common thread is that the whole process is optimized for you and your needs — not a mass market or an off-the-shelf product.
Customized software has been taking big strides in the development market. Its popularity has been valued greatly due to its tailor-made nature and ability to effectively support various business functions. Application modernization, application customization and application management are often used interchangeably with custom software development. But why? Because these terms all refer to changing or modifying existing applications to fit the needs of an individual company. Custom software development is the umbrella term for all three activities.
There are numerous reasons why custom software development should be considered by your business. The list below includes a few benefits you will receive from customized solutions for your company.
Higher Reliability
Custom software is not only a better product but it's also more reliable. Designing custom software means unlimited flexibility and reliability. If your business is looking for high levels of both, then custom software development is the way to go.
What's more, if you're a small business, this may be crucial to your future growth. Being "locked in" to a third-party vendor for your current software may prevent you from finding new business opportunities. Your business deserves total flexibility and independence to choose what software it uses and when; custom software gives you that freedom. When you decide to opt for off-the-shelf software, you literally have no control on future license pricing, the future of the business or even the terms and conditions of the product.
Ease of Scalability
With a custom software application, you have the freedom to create a solution that is designed to grow with your business and makes it adaptable from the beginning. For example, if there is a need for more complex data storage, like tracking customer preferences, or unit-level statistics on products, then you can easily scale up your application.
From scaling to streamlining your business, purchasing a custom solution is the way to go. It will remain flexible and scalable as your business continues to grow. As opposed to off-the-shelf solutions that might not be able to keep up with your company's growth, custom software was designed to do just that. It is tailored to the specifics of your business processes, integrations, and reporting requirements.
Ease of Integration
Custom software development increases your business's efficiency by replacing integrated processes. Custom software development allows you to embed new software into your existing framework, which can easily integrate into the workflow of your business for instant results. The integration process of custom software is easy unlike that of COTS software. Using COTS software can take weeks or months for the integration process itself. You are also likely to experience issues with the software in the process of integrating your business's current systems.
When you utilize commercial off-the-shelf (COTS) software, integration with other business software is not guaranteed. COTS is also limited to what's been programmed within the original coding of the software, meaning that any changes will require substantial effort and cost. Custom software development offers a multitude of advantages such as higher efficiency, flexibility, and fault recovery that can help reduce expenses and improve efficiency.
Expected Results
The number one reason why people choose custom software development is to ensure that the product matches their company's requirements. When you explore the software market, you're bracing yourself for a long list of available software out there. When faced with the selection process, you may be tempted to easily choose an off-the-shelf product because it is quick and cheap. However, you may find yourself hitting a wall after a couple of days or weeks. The problem with an off-the-shelf product is that it does not necessarily suit your business needs. This creates the risk that the software will not meet your needs. By choosing custom software development, you ensure that the product you acquire will be tailor made for your business. A one-size-fits-all solution that does not work for you is like wearing a broken shoe size — all it does is create problems with your budget, efficiency and morale.
Whether you are an entrepreneur that is in the early stages of growing a business or a business that is ready to expand, a custom software application is a necessity. The development of a custom software application is an investment that pays off manifold Mobile App Development.
Hardware Spending
Sure, it's easy to just buy off-the-shelf software and implement it as your company grows. Especially if the software is reasonably priced. But when you take a closer look at the cost of running it, you may find yourself scratching your head thinking, "Is that really all?"
When considering off-the-shelf software, you have to take the price into account, but with the expensive price tag comes a more complicated system for your business. When running a business, you want simplicity, which is why tailor-made software is exactly what you need. As custom software is created specifically for your business, it will work smoothly and won't waste any energy trying to make something fit that was n This eliminates an up-front financial commitment, as well as future expenses for hardware upgrades.
Speak With An Experienced Custom Software Development Company
To Conclude:
If you are overwhelmed by your idea and business plan, you might need custom software for your company. It will help you create a scalable solution for your startup idea. While it does require some budget, the outcome may surprise and satisfy you! Custom software can be a strategic decision which can impact your business by improving your customer experience and usability. Therefore, if you want to gain a competitive edge and expedite processes, then innovative custom software might be the right move for you!
Now, for a lot of businesses, the whole notion of "custom software development" might seem like an oxymoron — money invested with the goal of saving money doesn't really make sense. But at Xduce, we'd argue that custom software development from us is actually a super cost-effective strategy for growing at exponential rates and spreading over your business without risks.