Last Updated on February 14, 2023 by Tabraiz
The more we clutter our PC, it becomes sluggish and the performance gets worse. We install multiple apps as and when needed but forget to uninstall them back once the task is over. A lot of apps may create multiple files, app cache, cookies, and other clutter. If you accumulate duplicate files on your computer, you may easily run out of space and experience performance issues.
Duplicate media files take up a lot of space in storage. Using the manual process to clean duplicate files can hinder your experience and may take longer than expected yet can't remove all the duplicate files. Only the best duplicate file finder can expedite the process with accuracy to find and delete duplicate files, photos, documents, music, archive, and videos. Let's explore the manual methods and the best file finder tool to clean duplicate files.
Free Up PC Storage
If you are a better organizer, you must have stored documents, music, videos and pictures in their respective folders. It becomes easy to get into different folders and check for unwanted files. You can always sort files by Size and start deleting the heaviest files.
Video files, movies and other backup files take up a lot of space in the storage. It is essential to periodically check on all the media folders and albums to quickly find and clean duplicate files.
You can access Windows Explorer with (Win + E) and get into different folders. Sort files by Name, Size and Date Modified to check if there are any duplicate files available in any of the folders. Search for 'Copy' written at the end of any file name. Compare the date modified and delete the older version.
Run Disk Cleanup
Disk Cleanup is the best utility to declutter your PC storage. It performs a scan and lists out all the unwanted clutter, cache, cookies, temp files, Windows update files and other installation temp files.
Step 1. Press the Windows key, type Disk Cleanupin the search bar and select the Disk Cleanup App in the searches.
Step 2. Select the C: Drive with a tiny Windows logo. Default is the C: Drive that has Windows installed.
Step 3.Let it scan and display all the user clutter. Select all the files and hit the Ok button to quickly remove all the clutter just with a single click. Once removed, the window will close itself.
Step 4. Follow steps 1-2 and come back to the same window. Click on the 'Clean up System Files'. It will again perform a scan and list out Windows system clutter. Again, put a check on all the files and hit Ok to remove all the unwanted files.
Perform Disk Defrag
Disk Defragmentation is a Windows utility that arrangesall the used and unused space in a systematic manner on your hard drive. Whenever you create and delete a file, it creates its space and address on the hard drive. The particular sectors can not be used again until the fragmented sectors are defragmented.
Step 1. Press the Window key and type disk defrag in the search bar.
Step 2. Select the 'Defragment and Optimize Drives' app from the search results.
Step 3. Select the Primary drive partition that has Windows installed on it. Click on the Analysis button to scan the drive partition for fragmented space.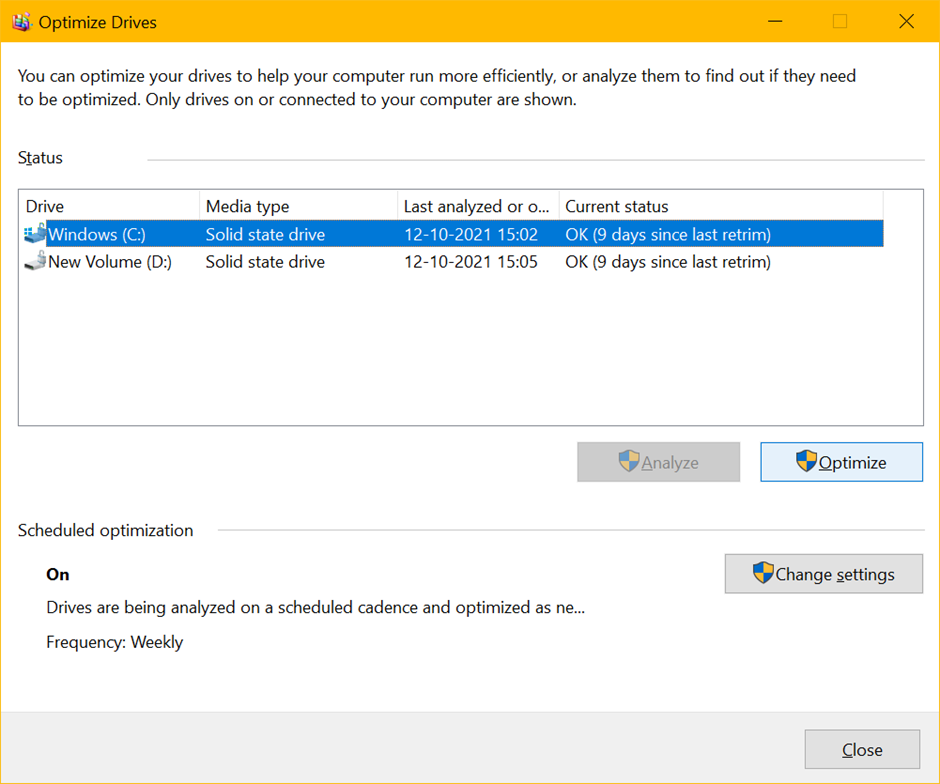 Step 4. If the result shows fragmented space, click on the Optimize button to defragment the fragmented sectors. It will perform defrag and make the space reusable. Perform these steps on other hard drive partitions and restart the computer.
Delete Duplicate Files
Duplicate files take up unwanted space on the storage drive. It also creates confusion between the original or duplicate version and which file to use or the latest updated version. The manual process to find and delete duplicate files from Windows can be a tiresome task. You can automate the process with the best duplicate file remover for Windows.
Duplicate Files Fixer Pro
As per our test results and comparison, Duplicate Files Fixer Pro is the best duplicate file finder to detect duplicate files and clean them up from your storage.
Duplicate Files Fixer Pro has the best scan engines and algorithm to perform a deep scan and list out all the duplicate files, documents, music, videos, photos, and more. It is compatible with multiple file formats and all the latest versions of Windows, MacOS, iOS, and Android devices. You can perform a quick scan on all internal or external storage devices.
Duplicate Files Fixer will send all the found duplicates to the Recycle Bin. In case you feel that you deleted an important file, you can always restore it back from the Recycle Bin. If you feel that you have deleted just the right files, you can always go ahead and empty the Recycle Bin folder.
Final Words
This article on how to boost your PC performance and clean duplicate files on Windows has manual and automated methods to find and clean duplicate files. You can manually search for duplicates or make use of the best duplicate file cleaner for Windows. It can quickly detect duplicate files and list them up to clear. Duplicate Files Fixer Pro is the best file finder utility program for Windows PC.
Apart from this, if you are interested to know more about EHR (Electronic Health Record) and How Does It Work then visit our Daily Bites category