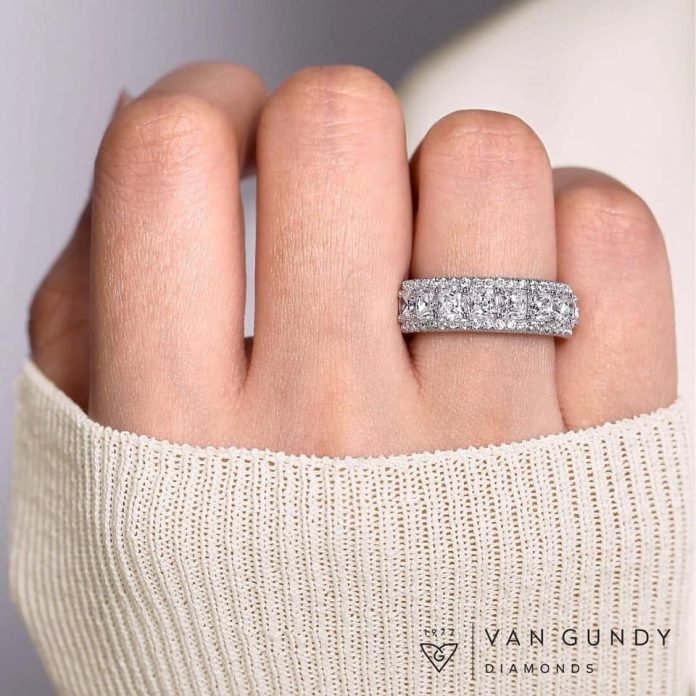 Last Updated on September 20, 2023 by Asfa Rasheed
Wedding bands are a significant part of your ring style and constantly remind you of your commitment to one another, even if engagement rings and diamond wedding rings receive most of the attention. Like diamond anniversary bands, wedding bands symbolize a married couple's love and commitment. Eternity, which has no beginning or end, is symbolized by the wedding band.
There are numerous phases to selecting the ideal wedding bands, including picking a metal, selecting engraving or embellishments, and buying the bands before the big day.
This article provides a brief guide to diamond wedding brands to help you make an informed buying decision.
Types Of Wedding Band Materials
Nowadays, most wedding bands and diamond wedding rings are composed of precious metals such as platinum, yellow gold, rose gold, or white gold. Each of the wedding band materials has advantages and disadvantages.
Platinum: Compared to white gold, platinum is more robust and hypoallergenic. It is significantly more expensive than the other kinds of wedding bands and, over time, becomes dull and scratched.
White gold: White gold is sturdy and resistant to scratches. It is less expensive than platinum but needs to be re-dipped every few years to keep its sheen.
Yellow gold: Of all the different forms of gold, yellow gold is the purest and most straightforward to preserve. It is also the most allergy friendly. Regular cleaning and polishing of yellow gold are required.
Rose gold: Compared to other materials for wedding bands, rose gold is more durable and cheaper. It's not a metal that's hypoallergenic.
Width of the Band:
The width of your band, which can range from 1mm to 8+mm, is undoubtedly one of the most important decisions you'll have to make. Most of the time, brides will choose wedding bands that are the same width as their engagement rings, with a typical range of 2 to 4 mm. However, mixing widths can produce a distinctive appearance, so don't be afraid to go for something larger or smaller, depending on the mood you're going for.
Stones:
Many couples choose diamonds and stones to personalize their wedding bands, like diamond anniversary rings. The pavé style, which features tiny diamonds lining the band, adds a lot of brightness and flair, but after time, especially if you lead an active lifestyle, the stones can become loose and fall out. Consider a channel setting if you still want the glitzy effect but don't mind the possibility of missing stones or snags that come with pavé.
Finally, when choosing the gemstones, keep to heavy rocks like diamonds, sapphires, or rubies.
Engraving/Etching:
There are countless ways to decorate the metal on your band, from stars and florals to classic art deco patterns. Just bear in mind that intricate etching on bands, like it is with any other bands like diamond anniversary bands, is more likely to collect dirt (and is challenging to clean), and any additional designs (or engraving on the interior) would raise the ultimate cost.
Particularly for men's rings, finishes are popular. Not necessarily the conventional high polish, though. An accessory's finish can set it apart and make wedding bands or diamond anniversary rings stand out when it comes to the last few aspects of your band. A finish is the finishing touch that will truly make your band your own, whether you wish for a more textured look like stone, brush, matte, hammered, or sandblast, or you want a satin or high shine.
Wrapping it up
Wedding bands for both serve as a social marker in society, indicating to people your commitment to one another, whether legally, religiously, or both. It's not just a gift we give to the person we've decided to marry; it's not just about how much money we spend on it or how beautiful it is. We have to understand what it means. You can pick from a range of stylish and exquisite wedding bands and diamond wedding rings at Van Gundy Diamonds.
Apart from that, if you are interested to know about Things to Consider Before Buying A Diamond Wedding Band then visit our Fashion category.