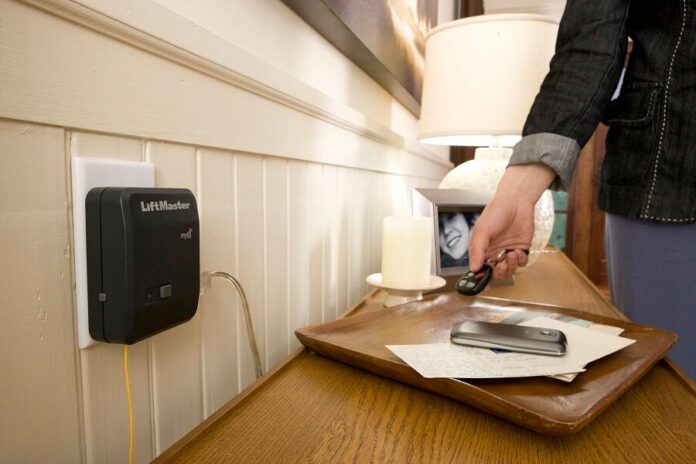 Last Updated on February 12, 2023 by Abdul Rehman
Garage door openers are electrical devices that open and close your garage door for you automatically. Switches on the garage wall control the garage door opener, and most come with a remote that can close and open the garage door from a short distance.
Garage Doors Openers
Garage door openers are a modern convenience that has revolutionized how we access our garages. They provide a quick and easy way to open and close the garage door without the need to get out of the car or manually lift the door. Garage door openers come in various styles, from chain-driven to belt-driven, and can be controlled via remote or smartphone apps.
They also offer automatic stop and reverse features, which can improve safety by preventing accidents or damage to the door. Garage door openers can also be integrated with home automation systems, allowing for even greater convenience and control.
Whether you're looking for a basic model for a standard garage door or a more advanced option for a custom setup, there's a garage door opener to suit your needs. With a garage door opener, you can enjoy the convenience and security of having easy access to your garage at the touch of a button.
What to Keep in Mind When Buying a Garage Door Opener?
It's not as simple as picking the cheapest garage door opener off the shelf. Before making a purchase, there are a few things you should think about.
The size and weight of your garage door. When selecting the sort of garage opener to buy, this is a vital factor to consider. A screw drive, for example, would not be the ideal choice if your garage door is enormous and heavy, but a chain drive may. If your garage door is taller than typical, you may need to purchase an extension kit to make it work correctly.
The type of garage door material you have. PVC overlay, aluminum, fiberglass, steel, and wood construct garage doors.
The power source. Electronic garage door openers use alternating current (AC) or direct current (DC) electricity.
Noise. If you're concerned about noise, a belt or screw drive garage opener is quieter than the other options.
Safety. When shopping for a garage opener, look for features like automatic reversing action sensors, infrared beams, and rolling codes.
Budget. When making a decision, this is the most important thing to consider. If you can afford it, the belt drive is the way. The chain drive garage opener is your best choice if you search for a less expensive garage opener.
Let's look at the seven various garage door openers now that you know what attributes you would require in a garage door opener.
Garage Door Openers with Chain Drive
This is the most popular garage door opener because it accommodates practically all garage door widths and heights. The garage door is moved on the track by a chain, which is the most economical version. When/for what it's best used for: This style of opener works well with insulated, wooden, or any other heavy doors. Range of prices: $130 to $200
Garage Door Openers with Belt Drive
Belt drive openers are similar to chain drive openers, except instead of a chain, they move the door using a rubber belt. When and for what: This is appropriate for light and heavy doors. It may be used on multi-panel and single-piece doors. Range of prices: $170 to $350
Garage Door Openers with a Screw Drive
Screw-driven garage door openers have a threaded metal rod that opens and closes the door like a screw. This is the door to get when you need a quiet door that won't break the bank. Range of prices: $150 to $200
You must ensure all parts are lubricated properly
You may experience issues with the device when temperatures fluctuate
Not suited for heavier, one-piece doors
Noisier than belt drive openers
Garage Door Openers with Jackshafts
A jackshaft garage door opener is installed on the wall at either end of the torsion bar. This is the sort of garage door opener that is utilized the least. It generally features a computerized system and employs automated deadbolts.
When/for what it's best used for: Jackshaft garage door openers are ideal for garages with sloped, high, or low ceilings, as well as when extra storage space is required above the garage door. They work well with regular sectional doors and are suitable for home and commercial use. Price range: $550 to $640
Direct Drive Openers
Using a gear wheel, the direct-drive opener moves the trolley along a fixed chain. The trolley contains the motor. When it comes to taller garage doors, this is the best option. Range of prices: $300 to $500
Openers for Drawbars
This is one of the most common door openers on the market, sometimes known as trolley openers. A chain or a belt typically drives rails. The sub-types as mentioned above of drawbar openers are belt drive and chain drive openers. When/for what it's best used for: Almost all residential garage doors with torsion or extension springs are compatible with these. Range of prices: $130 to $350
Hoist Openers
Hoist openers work similarly to jackshaft openers. When there is a power outage, you may use the chain hoist on these. When/for what it's best used for: These are ideal for large overhead or steel curtain-style doors that roll-up. Range of prices: $1,400 to $1,500
Read More: What causes To Flickering Lights In cars? All You Need To Know
Garage Door Openers' Benefits and Drawbacks
Let's look at the benefits and drawbacks of having a garage door opener installed in your house before you buy one. You can determine if this is the appropriate buy for you by considering the benefits and drawbacks.
The following are the primary benefits of having a garage door opener:
It is more secure than a manually operated garage door. You won't have to pull or drag the door open or closed since a wall switch or a remote operates the garage door opener. The door may also be manually locked and unlocked. When the power is out, the door has to be maintained, or for security concerns, the manual lock comes in useful.
It is more practical than a manually operated garage door. You don't have to get out of your automobile when you come up your driveway to park your car since a remote operates the door. The door may be automatically opened using the wall switch or the remote control you will most likely keep.
There is a choice of designs to choose from. Automatic garage doors are available in a variety of styles and materials. Long steel or raised panels can be used to create them. They're also available in various materials, including wood, aluminum, steel, fiberglass, and wood composites. You may choose whatever looks best on the outside of your house.
Several speed choices. Provides more security than a manual garage door since you may pick from various speed options when closing or opening it. Because you require a remote to open the automated door from the outside, getting into your garage without one is more complicated. The presence of an automated garage door opener might serve as a deterrent to criminals.
And here are the things to keep in mind before installing a garage door opener:
Manual doors are more challenging to repair than openers.
Openers are more challenging to install than manual garage doors since they include a motor and other parts that need to be maintained for them to last. The installation of a garage door opener will necessitate the assistance of a professional due to the numerous pieces that must be assembled.
Garage door openers are powered. Because the garage door opener is powered by electricity and battery power, you will have to manually open the door if there is a power outage or if the batteries in your remote run out.
FAQs